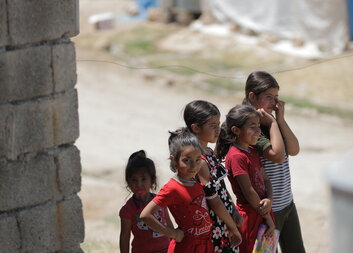 Caritas Czech Republic distributes shelter kits & repairs shelters for vulnerable families in Duhok
Tens of thousands of people fled Mosul and Sinjar and moved to Duhok where they have no roof over their heads. On May 19th, the team of Caritas Czech Republic in Iraq visited the project site in Duhok, where they distributed 35 shelter kits and signed contracts with 10 families for emergency shelter repair.  
The homes of the displaced
The displaced people in this area are facing many challenges. Caritas is facilitating the process between the landlord and the tenants as they are staying on someone else's land with no prior agreement. The intervention from Caritas will ensure long-term shelter security for the displaced people.
Photo Credit: Yaro Basil/ CCR Iraq


Rental assistance and housing repairs for vulnerable families
Thousands of displaced people lack any income or financial support to cover their basic needs.  Most of their expenses go to rent, and most of them cannot even afford to pay the rent as they don't work or have any savings. To reduce the financial burden for the displaced people, Caritas is paying rent for the 50 most vulnerable families in Sumel and Zakho for 6 months.
In another activity Caritas are also assisting and supporting the displaced people financially by distributing cash payments empowering the families to themselves purchase the materials needed so they can repair their own shelters. The total number of families benefiting from this cash assistance is 175 in the area of Sumel and Zakho.  Cash is one of the preferred options for shelter assistance in Iraq, as we have found this increases the amount of the assistance that reaches the vulnerable families.
Distribution of kits
The weather in Iraq, especially in the north, is cold and rainy in the winter and sweltering and humid during summer. To help the displaced people, Caritas is providing them with shelter kits. The displaced people become the owner of these shelter kits and they can use them to protect their roofs. The displaced families can take these items back to their place of origin (Mosul or Sinjar) or even if they want to move to another area in Duhok.
Caritas will distribute 750 shelter kits in Sumel and Zakho districts in Duhok for the duration of the project.
Photo Credit: Yaro Basil/ CCR Iraq
Caritas continues to help the most vulnerable people in Iraq
"It has been challenging to undertake this project due to the Covid-19 pandemic in Iraq, so I congratulate the team on their hard work," said Tristan Turner, manager of the Shelter Project.
"Caritas Czech Republic is ready to help more people in Duhok and other places in Iraq. Our team has carried out a new needs assessment in Duhok and there are still many other families that didn't receive any help, especially in terms of shelter requirements and living conditions," he added.