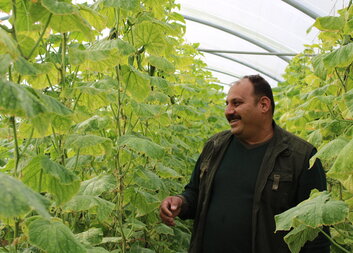 Azad and his siblings are now diligently working in their greenhouse
Azad Kreik was born in Bashiqa and resides in a house with his wife, children, brothers, and mother with his family of roughly 17 people. They reside in an orchard they created after their property was burned down by ISIS. They cultivate olive trees in the orchard, and Bashiqa is known for its olive groves and pickles production.  In the open space between the trees, they also grow many veggies. His brother Ziyad, his children, and a few friends assist him in his farming endeavors. As a result, they also share their agricultural and crop-harvesting experiences.
Prior to their displacement and the occupation of their regions by ISIS, they experimented with greenhouse gardening. They had great results, but ISIS took it over, stole everything, and burnt it down to the ground, including the farm and house.
Azad's involvement in the project
Azad registered to the program that he heard Caritas Czech Republic is implementing in the area. He has been accepted and got trained with other farmers of the region on the new ways of farming and the methods of cultivation in greenhouses.  After the training they received a greenhouse, equipment and seeds so they can work and produce plants.
Their greenhouse now includes many cucumbers that grow in bunches as they learned from the training how to plant in these seasons. Since few farmers grow cucumbers during this time because they are afraid of losing the crop, so requires experience and accuracy to cultivate during this time.  That leads to an increase in prices, allowing the farmer to profit while selling it.
During the early days of harvesting the crop, it produces an average of 100 kilograms each day, and about 2 tons over the course of the season. The proportions change from season to season. Furthermore, planting all sorts of seeds at all times of the year is impracticable. It is possible to grow in the plastic house for three seasons if the farmer has superior knowledge and understanding of greenhouse culture. "We promote cultivation in plastic reserves to prevent importing certain veggies and fruits," Azad said.
He also added "I'd like to express my gratitude to Caritas Czech Republic for their support to farmers. We hope that Caritas will continue to support farmers who are succeeding in their initiatives since it will help them achieve remarkable success and advancement in agriculture, better their level of life, and improve the economy of the region" 
This project is funded by the Ministry of Foreign Affairs of the Czech Republic (MOFA) and implemented by Caritas Czech Republic in Iraq.